Wetten Importers and Brasserie Dubuisson of Pipaix, Belgium announced today an impending partnership that will see nationwide distribution of Dubuisson's beers in America. Given Wetten Importers' identity as "The High Gravity Specialists," the fit with Dubuisson, producers of the famed 12% ABV strong amber ale, Scaldis, was ideal.
"These are the fine wines of the beer world. It's what we know. It's what we feel comfortable with," Wetten Importers Director of Sales Jonathan Fattori said. "For us it's always been about heritage, history and quality. Dubuisson is one of the most well-respected breweries, in all aspects, in Belgium. Not just in terms of quality and what they offer to the market, but also in terms of their history and how involved they are in the Belgian Brewing community. They're leaders in their trade – we feel super fortunate to have them."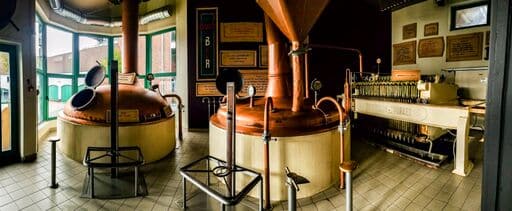 Founded in 1769, Dubuisson is the oldest brewery in Wallonia – the French-speaking region of Belgium best-known in beer culture as the birthplace of the saison style. During that time the brewery has remained under family control, with brewmaster Hughes Dubuisson representing the 8th generation of family ownership. Under his guidance the brewery's range has expanded from the English-influenced strong ales the Dubuisson name was built on to a bevy of brand extensions influenced by his personal affinity for the wines of Burgundy. Be it the 10.5% ABV Scaldis Tripel or 7% ABV Cuvée Des Trolls or the barrel-aged Prestige line, the last 30 years have seen the brewery produce remarkably creamy, full-bodied food-friendly options.
"They say Belgian brewers are at their best when they brew beers that go with their food," Wetten Importers Media Liaison Dean Myers said. "At least in this case, that's a lie. Dubuisson's beers go with everyone's food. Ask anyone – customers, co-workers or employees – who was listening during my time working the restaurant floor: these are the most food-friendly beers on earth. And I can't wait for the wider American market to know and love this brewery the same way I do."
As part of the partnership, Wetten Importers will make the full range of Dubuisson beers available to America for the first time – which will see the brewery's homage to Wallonia history, the Saison Surfine, make its American debut later this fall.
"We have an opportunity to take an incredibly unique brewery in terms of history and heritage – and a brewery that makes some of the finest beers in Belgium – and re-introduce it to the American beer drinker," Fattori said. "Although the brands are certainly recognized by many, having been imported for quite a while, I think they may have been, unfortunately, forgotten a little. For whatever reason, it doesn't really matter. We have a unique opportunity to take this phenomenal brewery and bring it back to where it deserves to be – on people's tables."